The Fearless Voice Community works collectively with our Network to amplify the work of advocates and the efforts of value-centered businesses. It's time for you to raise YOUR voice.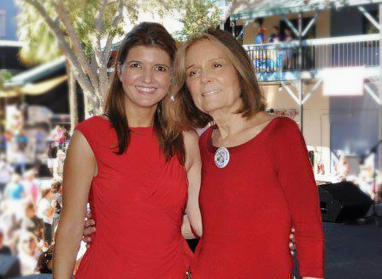 Shawna with Political Activist Gloria Steinem
More than a Listing – It's a Connection
The Directory
The Fearless Voice Network includes experts, advocates, community leaders, and legislators to engage our audience and educate them on why these issues matter.
Now you can also be included in this initiative and highlight your personal brand, your socially conscious business, or your advocacy / non-profit organization. 
Reach directly into the hands and homes of your target audience. Whether you are looking to increase your visibility, connect to customers and vendors who share your values, or locate prospective donors to your organization, the Fearless Voice Directory is a simple way to get in front of thousands.
The Advocacy
Our network is centered around meaningful change so we have gone even further to make a positive impact.
FVN is partnering with political organizations and non-profit groups including Democracy Legacy (voting rights), Presley Foundation (Mental Health & Wellness), and Green Reine PAC (cannabis social justice) to ensure that all of our viewers are empowered to turn conversation into focused action. Reach out today to see how you can get involved.
Reach Out Today
Send us an email or call us at 202-996-0155.
Become a Part of The Directory
Enable new clients or customers to connect to your business in a meaningful way. Your full-page Directory listing will include more than just contact information; you'll get a chance to share a bit about your organization and why making a positive difference is important to you.
Advocates & Non-Profit Organizations
If you are an advocate or a non-profit organization in one of our key areas of focus, you can receive a free inclusion in our directory. Ready to amplify the work that you're doing? Select an enhanced listing at a reduced Advocacy Rate or ask how your group can be the beneficiary of one of our global online fundraisers.
Increase your visibility further by becoming a Featured Listing or grab the attention of our audience with Message Placement in a key area of our Directory Landing Pages. Enrollment takes only minutes with a variety of options to fit any budget.
Make a Difference – All While Generating Revenue
As part of our mission, Reine Media partners with a number of nonprofit and political action organizations to create meaningful change centered around social justice issues. We can provide the tools and support needed to host a successful virtual or in-person fundraiser centered around the issue you are most passionate about.
Working to engage, educate, and empower people to become advocates and active voters in their own communities.
In Proud Partnership with Democracy Legacy
Providing awareness about the importance of mental healthcare and wellness with a focus on improving access to quality care for communities of color.
In Proud Partnership with the Presley Foundation
Working legislatively and with leaders in the industry to expand access to care, protection of families through decriminalization, community support for responsible growth, and building a solid technologically-advanced foundation.
In Proud Partnership with Green Reine PAC
Reach Out Today
Send us an email or call us at 202-996-0155.